HWP 55
Electrolytic Hydrogen
Water Generator
(Alkaline Ionized Water Apparatus)
Dimensions
W225 x D120 x H347 mm
Weight
5.7 kg (When filled with water: 6.6kg)
Rating
AC 100V~ (50/60 Hz)
Power Consumption
250W (Standby: 0.4W)
Length Of Power Cord
2.5m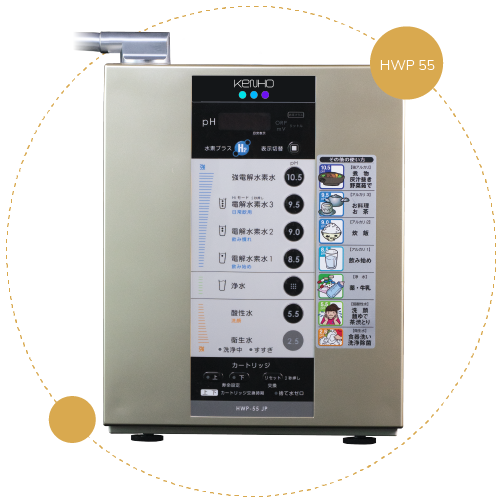 Water Supply Connection
Lever switching
Water Supply Method
Delivery water faucet
branch stopper
Dynamic Water Pressure
70–500kPa
Static Water Pressure
70–750kPa
Electrolysis
Electrolytic Ability Switch
3 levels of Alkaline Hydrogen Water +
1 level of Strong Alkaline Hydrogen Water +
1 level of Acid Water +
1 level of Sanitized Water
Processing Water
For Alkaline Hydrogen Water 1, 2, or 3
with dynamic water pressure at 100 kPa:
Delivery water amount
/ electrolytic hydrogen water : 2.65 L/minute
Volume of wastewater / acidic water : 0.15 L/minute
For Alkaline Hydrogen Water 1, 2, or 3
with dynamic water pressure a 350 kPa:
Delivery water amount / electrolytic hydrogen water : 5.5 L/minute
Volume of wastewater / acidic water : 0.29 L/minute
Water Purifying Cartridge (FW-13CM)
Filtering Materials
Hollow fiber membrane, silver-added granular activated charcoal, fibrous activated charcoal, etc.
Filtering Capacity
13 substances as specified by the JIS standard, including the following, are eliminated.
Free residual chlorine : 16,000 L*1
Turbidity : 16,000 L*2
Total trihalomethane : 6,500 L*1
*1 : Value of an 80% removal rate via the testing methods for household water purifiers (JIS S3201)
*2 : Value of a 50% filtering flow volume via the testing methods for household water purifiers (JIS S3201)
Life Cycle
If free residual chlorine and urbidity are targete : 2 years*3
If total trihalomethane is targeted : 10 months*3
*3 Assuming that 20 L of water is used per day
The information above applies to the non-Japanese product version.
For information on the Japanese product version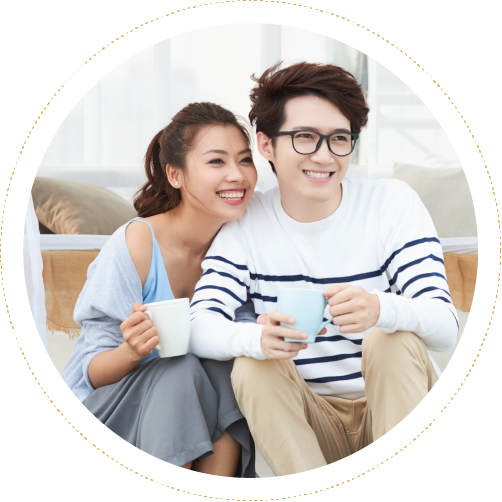 What Is
Electrolytic
Hydrogen Water?
Electrolytic Hydrogen Water
For Gastrointestinal Health
One of the main qualities of electrolytic hydrogen water is that it has positive effects for the improvement of gastrointestinal symptoms.
For example, many acknowledge its ability to ease any discomfort or an upset stomach may have. In other words, drinking electrolytic hydrogen water, unpleasant gastrointestinal symptoms can gradually be alleviated.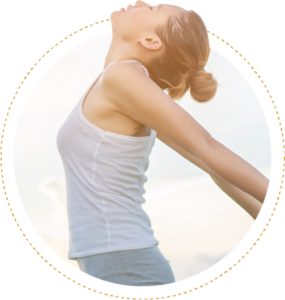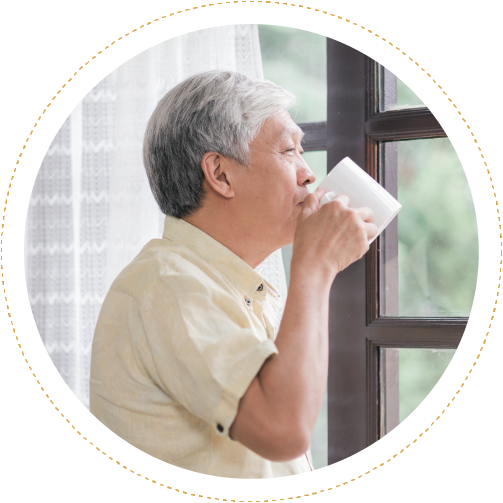 Efficacy Or Effects Of Electrolytic Hydrogen Water
Improvement Of Gastrointestinal Symptoms
Electrolytic hydrogen water alleviates dull feelings in the stomach and stomach discomfort.
It also helps gastrointestinal movement and improves bowel movement.
What Are The Differences Between
An Electrolytic Hydrogen Water Generator
And A Water Purifier?
A water purifier is used for eliminating residual chlorine and impurities from tap water, in order to make clean water.
An electrolytic hydrogen water generator is used for electrolyzing the purified water from which impurities and chlorinous odors are removed to make electrolytic hydrogen water and acidic water. Therefore, the functionality and characteristics of the generated water are completely different.

The electrolytic hydrogen water generator can easily generate, at home, not only purified water that tastes better than tap water but also electrolytic hydrogen water that is good for health at home.
The Secret Of Electrolytic Hydrogen Water Is The Difference In The Oxidation Reduction Potential
The index that indicates the electrical energy amount of water is known as "oxidation reduction potential" (ORP). The higher the positive value, the stronger the oxidation power, and then the higher the negative value, the stronger the reduction power that deoxidizes oxidized materials.
Electrolytic hydrogen water has a negative value, thus we could say that it has a strong reduction power.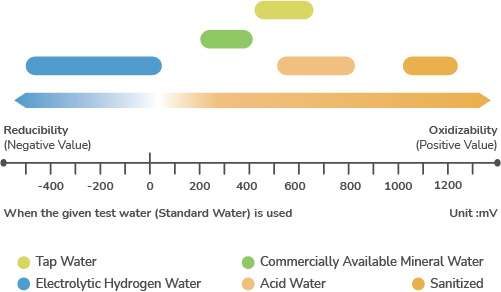 Mechanism Of
The Electrolytic Hydrogen
Water Generator
The apparatus purifies the tap water, and then electrolyzes the water.
By that, electrolytic hydrogen water is generated at the negative electrode with acidic water at the positive electrode.
Note: This site uses the terms "electrolytic hydrogen water" and "acidic water" for the names of generated water.
These correspond to the terms "alkaline electrolytic water" and "acidic electrolytic water" used in JIS T 2004
(water electrolyzer for home use).
This Product Can Generate
Purified Water, Acidic Water, Etc.,
In Addition To The
Electrolytic Hydrogen Water.
Kenho's electrolytic hydrogen water generator HWP-55 can generate purified water, acidic water, and sanitized water in addition to electrolytic hydrogen water. Various types of water can be used depending on the purpose.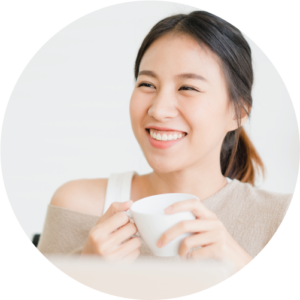 Electrolytic
hydrogen water
Drink electrolytic
hydrogen water to
improve gastrointestinal
symptoms.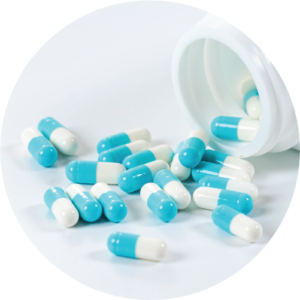 Purified
water
This is suitable for
preparing milk for
babies and for
taking medicine.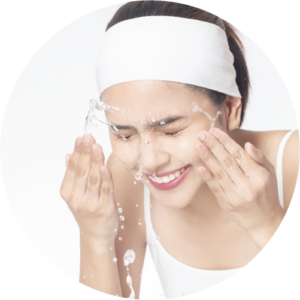 Acidic
Water
Acidic water is
recommended for
washing your face.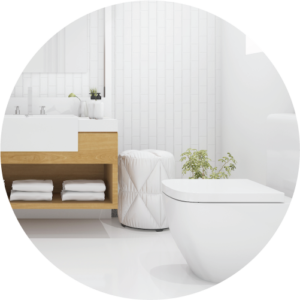 Sanitized
Water
Sanitized water
can be used for
cleaning kitchens
and bathrooms.
The Association of Alkaline Ionized Water Apparatus (AAIWA) was established with the participation of our company and other related companies so that customers can use products without worry.
The AAIWA carries out activities so that apparatus can be used for the healthy and comfortable lives of customers, focusing on promoting academic research related to the efficacy and effects of alkaline ionized water and for elucidating users on the proper use of water apparatuses.
Note: Kenho is a member of the AAIWA.
Adding Flavor To Life And Making It Healthier With
10 Types Of Selectable Water
Good water can for instance make the food taste better, as it also is good for skin care.
With easy button-based operation, users can choose one from 10 types of water that can improve daily life.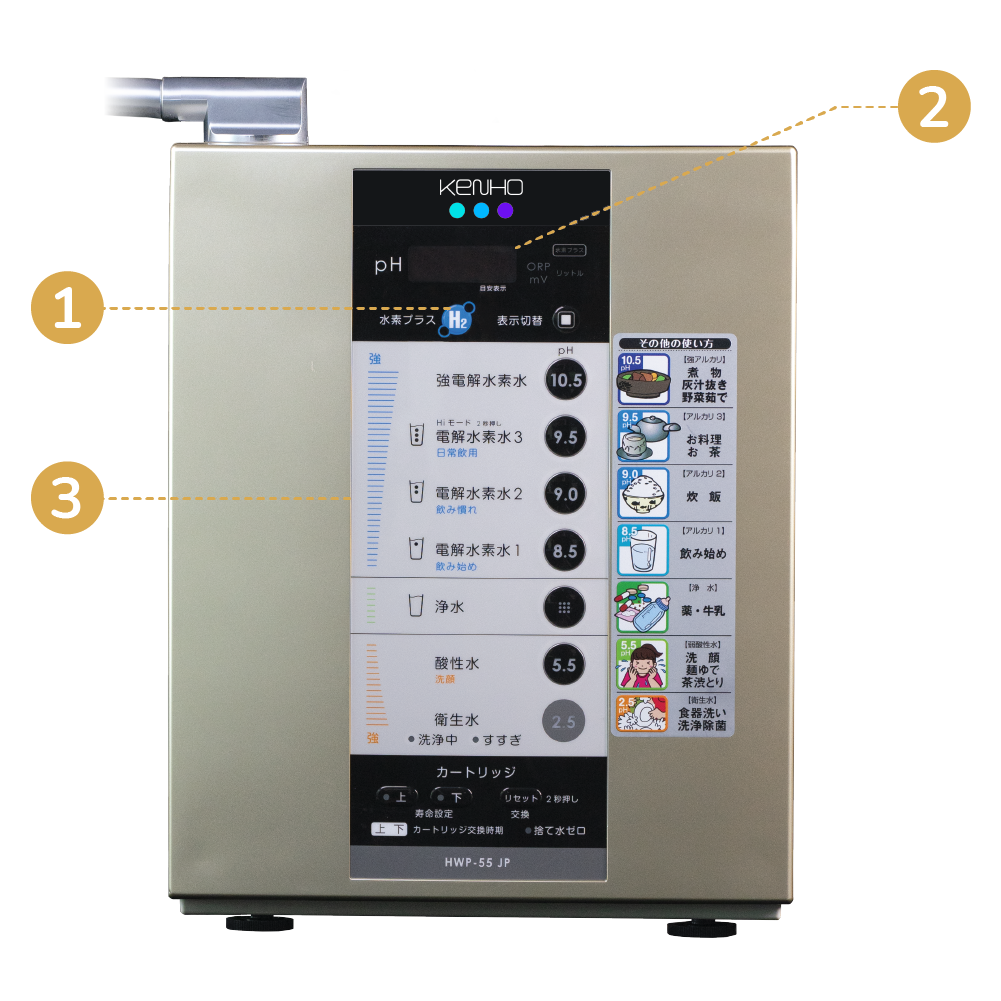 "H2" (Hydrogen Plus) Button
Added Display Of The

Hydrogen Level
For water quality in which the pH does not easily increase, users can press the "H2" button to change the pH to one suitable for the intended purpose.
The amount of dissolved hydrogen increases up to 20%.
Note: Comparison between normal mode and the Hydrogen Plus mode when using pH 9.5 synthetic water (synthetic water based on JIS T 2004)
Note: Depends on water quality
Displays the hydrogen level in a manner that is easy to understand when the "Switch Display" button is pressed (six levels).
Users Can Choose From 10 Types Of Water : 3 x 2 Hydrogen Plus + 4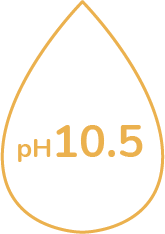 Strong Alkaline Hydrogen Water: pH 10.5
For cooking preparation, such as removing harsh taste of vegetables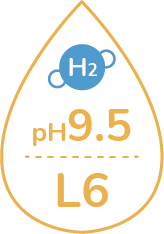 Alkaline Hydrogen Water 3:
pH 9.5 Hydrogen Plus
For daily drinking use for health management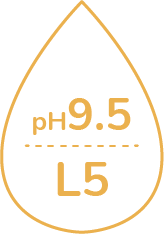 Alkaline Hydrogen Water 3:
pH 9.5
For cooking, making tea, etc.; this water can improve taste.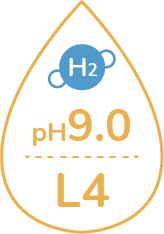 Alkaline Hydrogen Water 2:
pH 9.0 Hydrogen Plus
For hydration after sports, etc., and to be used when one's body has become more used to drinking electrolytic hydrogen water.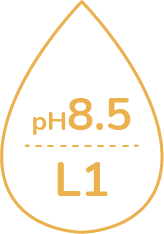 Alkaline Hydrogen Water 1:
pH 8.5
Start from this level if you are just starting to drink electrolytic hydrogen water.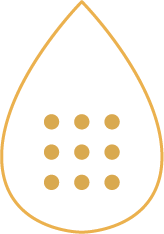 Purified Water
Recommendable for taking medicine and for making milk for babies.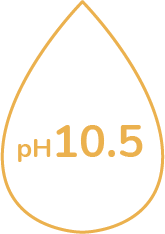 Alkaline Hydrogen Water 3:
pH 9.5
For cooking, making tea, etc.; this water can improve taste.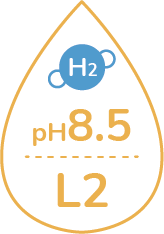 Alkaline Hydrogen Water 1:
pH 8.5 Hydrogen Plus
For after waking up each morning and before sleeping.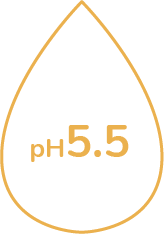 Acidic Water: pH 5.5
The water can also be used for washing the face, as it tightens the skin.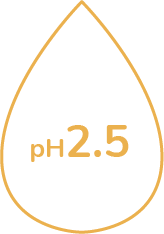 Sanitized Water: pH 2.5
The water can be used for cleaning and sterilizing tableware, and for cleaning kitchens and bathrooms.
Note: Table salt needs to be added.
Secret To The Generation Of Water Containing Ample Hydrogen:
A High-efficiency Electrolytic Tank
Kenho's electrolytic tanks can generate alkaline ionized water,
which contains a lot of hydrogen, all via advanced technology.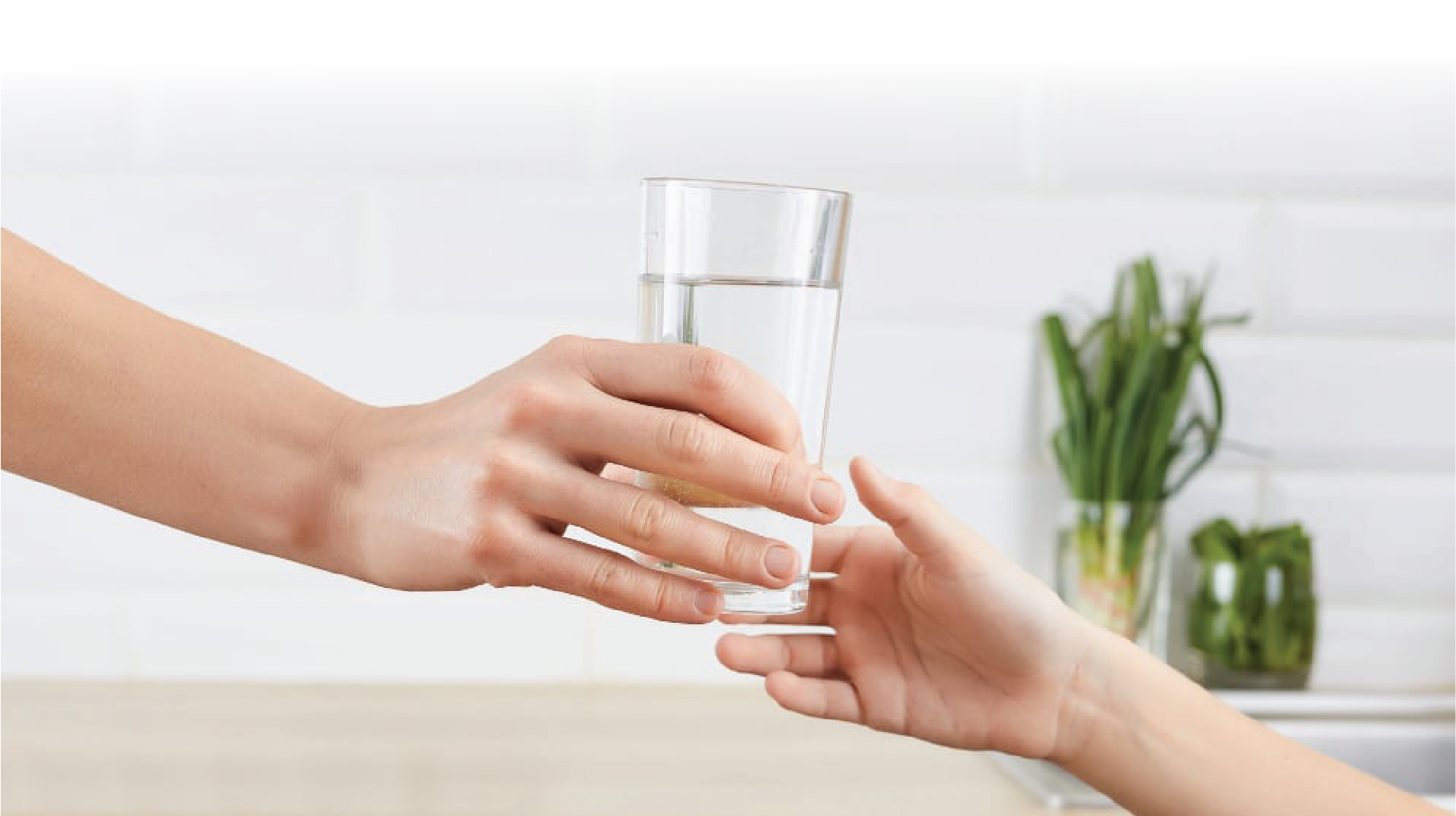 Making Healthy Electrolytic
Hydrogen Water Via
Excellent Water Purification
Functionality And
An Electrolytic Tank
High-efficiency Electrolytic Tank Five electrodes and a high-efficiency electrolytic tank are adopted.
By restricting the volume of wastewater while maintaining the industry's largest-level delivery water amount, attaining high levels of dissolved hydrogen is made possible.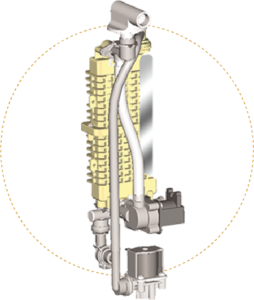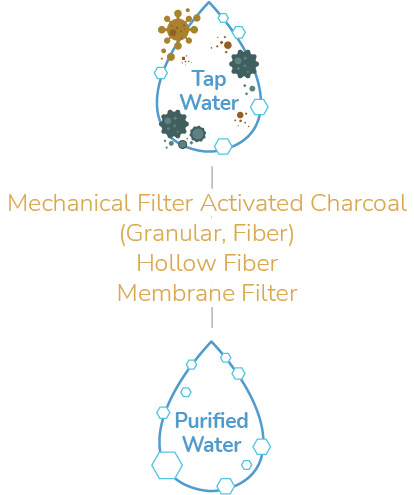 Eliminates 13 Substances Specified By The JIS Standard
① Free residual chlorine
② Turbidity
③ Total trihalomethane
④ Chloroform
⑤ Bromodichloromethane
⑥ Dibromochloromethane
⑦ Bromoform
⑧ Soluble lead
⑨ CAT (agricultural chemical)
⑩ 2-MIB (mold smell)
⑪ Tetrachloroethylene
⑫ Trichloroethylene
⑬ 1,1,1-trichloroethane
Electrolysis
Via a platina fine coating, water that contains a lot of hydrogen can be generated.
Via the platina fine coating on electrodes and through powerful electrolyzation, electrolytic hydrogen water that contains ample hydrogen, which has reduction power, can be generated.
The Regular Replacement Of The Cartridge Is Necessary.
Normally
A digital counter shows how many more liters can be filtered effectively until replacement is needed.

Filtering Capacity
16,000L
When free residual
chlorine and turbidity
are targeted
Replacement
Guideline
Once in about
2 years
When using 20 L a day
When Reaching The Replacement Timing
When the water flow is stopped, an alarm sound and the replacement lamp will notify you.
When the available water-flow amount reaches 0 liters.
When two years have passed since the beginning of use.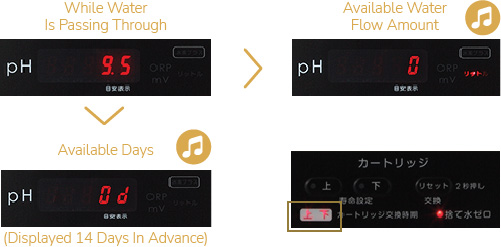 Energy-saving performance and eco-friendliness:
Choose wisely.
Choose Kenho's HWP-55.

Eco-Friendlier With Improved Water-Saving Capability
The amount of wastewater (acidic water) generated is very low.
Wastewater (acidic water), which always occurs when producing electrolytic hydrogen water, is kept to a strict minimum.

The flow rate when Alkaline Hydrogen Water 1, 2, or 3 is selected is 19:1. This is the top class* in the industry.
* As of February 2014 (based on an internal investigation)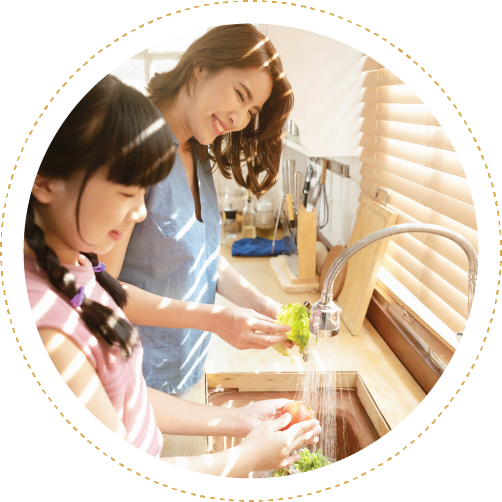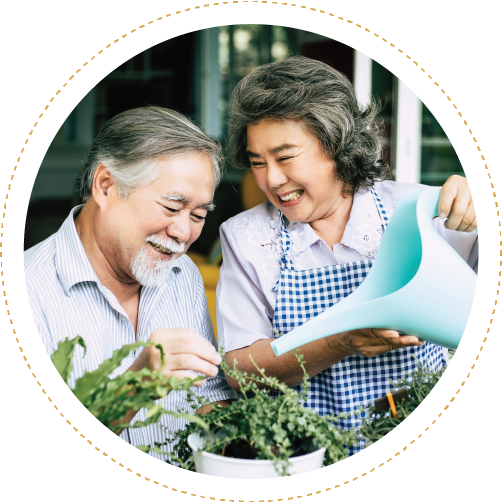 If used within 30 minutes, no water is wasted!
If water of the same water quality (Alkaline Hydrogen Water 1, 2, 3, or purified water) is used again within 30 minutes, all the water can be used without wasting the water that remains in the generator.
*If electrolytic hydrogen water is used for three meals a day and for tea within 30 minutes after each meal, the generated wastewater is zero, with a generation ratio of 4:1-19:1

Industry's Top-class Water Volume
The amount of electrolytic hydrogen water generated by electrolysis is 5.5 L per minute, which is the best in the industry. Thus, a family can use all the water they need.


Hassle-Free, With An Auto Cleaning Function
Real-time refresh function
Reduces the amount of calcium sticking to the electrode plates and supports the electrolysis ability.
Auto refresh function
For each 10 L of electrolytic hydrogen water used, 30 minutes after the water is stopped, the electrode plates are automatically cleaned for 10 seconds.

No Worry Necessary, With The Auto Power-off Function
The auto power-off function turns the power off 30 minutes after use. This prevents the wasting of electricity.

Easy-to-use, Long Delivery Pipe
The pipe used is now longer, at 65 cm, and there is more space around the faucet, allowing users to make better use of their kitchen.

Slim Body: Makes Placement Easy
A compact size of just 12 cm in depth allows users to situate the product in a kitchen of any style.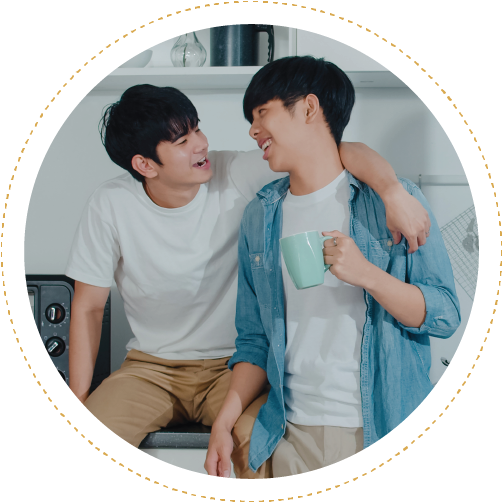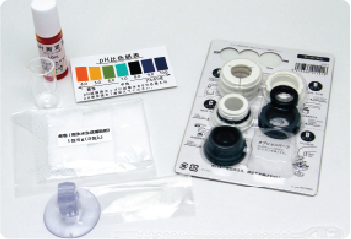 Enclosed Accessories
• Branch stopper
• Accessories for installing the branch stopper
• Table salt for generating sanitized water
• Set of pH measurement liquids, etc.