Multi-function, simple to use
Impact on the human body in conditions of isolation, potential therapies
3 Waveforms provide different therapies

We offer three different waveforms so that the treatment is always effective at all times
Waveform 1
Waveform 2
Waveform 3
1/f vibration – change voltage automatically
1/f vibration brings the rhythm that creates both mental and physical relaxation that resonates with the sound of waves and streams
1/f button change the fluctuation of waveform. Can start or pause 1/f vibration by pressing the 1/f button.
Treatment program suitable to your health condition
There are 4 voltages (1000Vp, 4500Vp, 9000Vp, 14000Vp) and 3 waveform, selectable timer period (20min, 40min, 60min and 8hr). Start with short treatment time and low voltage for the body to get used to the treatment.
Detector
A device for checking electric potential at the time of treatment. Avoid leaving the machine power on when stop using.
A combination of 4 treatment sections
| Electric treatment selection setting | Easy | Fast | Comfortable | Manual |
| --- | --- | --- | --- | --- |
| Output voltage (Crest value) | 4500Vp Fixed | 14000Vp Fixed | 1000Vp Fixed | 4500Vp 9000Vp 14000Vp, Random (Select) |
| Output waveform | Waveform 1 Fixed | Waveform 1~3 Random | Waveform 1 Fixed | Waveform 1~3 (Select) |
| Offset ratio | 45:55 Fixed | 45:55 35:65 27:75 Random | 50:50 Fixed | 45:55 35:65 25:75 (Select) |
| Output Frequency | 60Hz Fixed | 46-60 100Hz Random | 60Hz Fixed | 40-60-100Hz (Select) |
| Timer period | 20 mins Fixed | 60 mins Fixed | 8 hours Fixed | 20-40-60 mins (Select) |
For Fast setting, waveform, offset ratio and output frequency will change every 3 minutes.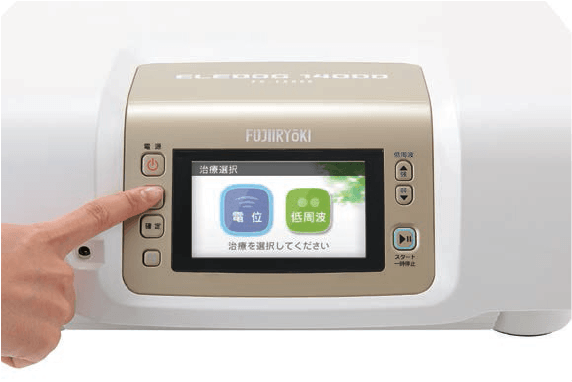 Habit block function (New)
The device is equipped with features that block the habit of the body. Effective treatments can be set based on the individual's physical condition.
Output frequency
You can select 40Hz, 60Hz or 100Hz. (Number of oscillations per second)
Offset ratio
You can select 45:55, 35:65 or 25:75. The change of offset ration helps to block you habit.
Easy control
It is easy to set the treatment section by observing the display screen and pressing the buttons on the side. Set up the treatment suitable to your physical condition. Unreasonable use leads to negative health effects.
Caution: If you touch a person or object (metal) during treatment, you may have an electric shock. So pay close attention.
Effectiveness and purpose of high voltage
Improve headache, stiff shoulder, insomnia and chronic constipation. For household use
[Low frequency therapy] Slightly irritates the affected area and is easy to use
Low-frequency therapy applies on the skin surface.
There are many options depending on the type of bump
Depending on the symptoms of each type of bump, the device has eight types of waves: Sazanami, Tapping A, Tapping B, Kneading A, Kneading B, Pushing, Vibration A, Vibration B
5 treatments for each part of body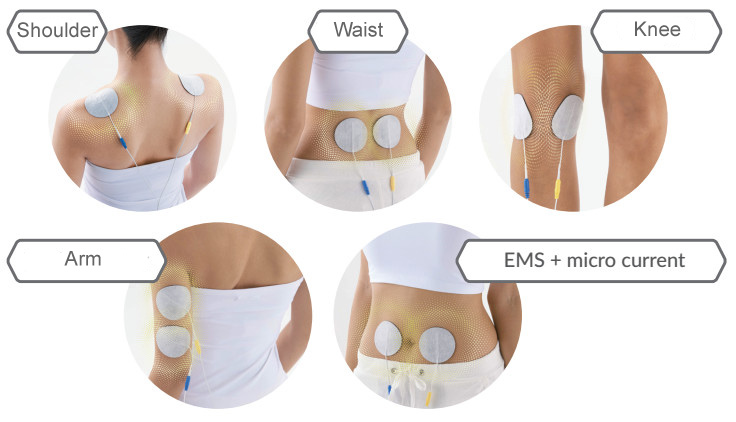 Each treatment focus on each part of the body:
"Shoulder", "Waist", "Knee", "Arm/ Elbow" and "EMS + micro current"
You can apply EMS to muscle exercise and relaxing.
Micro-currents also help relieve pain.
Exercise your muscles every time and everywhere.
Relax the sore, massage, prevent muscle weakness and relieve muscle pain.